| | |
| --- | --- |
| | VIN Checker 1.0 |
News
21.10.13 Version VIN Checker 1.1 released.
Read more >
Feedbacks
Leave your feedback!
Midlet "VIN Checker" is intended to checking the correctness of VIN-number of check digit, and display information about the manufacturer and model year of the car.
System Requirements
Midlet does not require a connection to the Internet.
Mobile phone should have a color screen and maintain a profile MIDP 2.0/CLDC 1.0.
Supported mobile phones
Also you can to run the MIDlet in emulation mode on devices running operating system Windows Mobile.

You are using midlet "as is", at your own risk.



VIN Checker is distributed under CC BY-ND 3.0 license ("Attribution-NoDerivs").

Downloads
| | |
| --- | --- |
| | Midlet is distributed in the form of ZIP-archive containing the files VINChecker.jad and VINChecker.jar, designed for installation on the phone with the appropriate software (Nokia PC Suite for Nokia, Siemens Data Exchange Software for Siemens, Sony Ericsson PC Suite for Sony Ericsson etc.). |

Checksum ZIP-archive MD5: b3d962d1c0329299232b282a3e77e0a2 - 1.1

Vehicle Identification Number (VIN)
Commencing in September 1980, Motor Vehicle Safety Standard regulation FMVSS-115 required a 17-digit VIN (Vehicle Identification Number) on all new vehicles sold in the United States. (In Canada, the applicable regulation is Motor Vehicle Safety Regulations Standard 115 of the Motor Vehicle Safety Act.) In June of 1983 the American requirements of the regulation moved to Part 565.
A Vehicle Identification Number, commonly abbreviated to VIN, is a unique serial number used by the automotive industry to identify individual motor vehicles.
Modern day VINs consist of 17 characters which do not include the letters I, O, or Q (to avoid confusion with numerals 1 and 0).
The vehicle identification number is divided into four parts:
the World Manufacturer's Identification (WMI - three characters);
the Vehicle Description Section (VDS - five characters);
the check digit;
the Vehicle Identification Section (VIS - eight characters).
When decoded, the VIN tells the country and year of manufacture; make, model and serial number; assembly plant and even some equipment specifications.
VIN Sample: SCCFE33C9VHF65358

| | |
| --- | --- |
| SCC | Europe, Lotus, UK |
| FE33C | Model |
| 9 | Check Digit |
| VHF65358 | 1997, Assembly Plant H, Serial Number F65358 |
One element that is fairly consistent is the use of position 9 as a check digit, compulsory for vehicles in North America, and used fairly consistently even outside this rule.
Checking the correctness of VIN-number of check digit is quite effective means of protection from hackers.

VINs are normally located in several locations on a car, but the most common places are:

on the door frame/door post of the front doors (usually driver's but sometimes passenger's)
on the dash near the windshield
on the engine itself (machined pad on front of engine)
on the car's firewall
in the left-hand inner wheel arch
on the steering wheel/steering column
on the radiator support bracket
on your car's title, registration, guarantee/maintenance book or on the declarations page of your auto insurance policy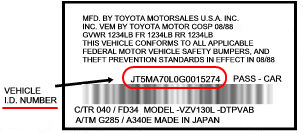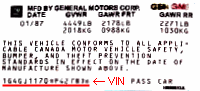 Features
When you run the midlet splashscreen appears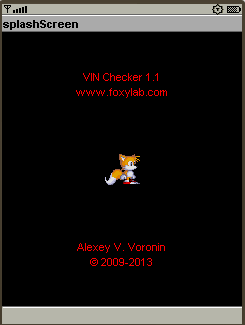 (within 1 seconds), showing where you can stop to press any key. After the splashscreen, open the main form of midlet: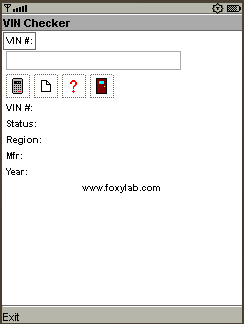 To check, you must enter the VIN in the box

and click

.
If you entered the correct VIN-number, then displays:

entered VIN-number ("VIN");

check result ("Status") - "Valid" (number correct);

region and country of the manufacturer ("Region");
name manufacturer ("Mfr.");
model year ("Year").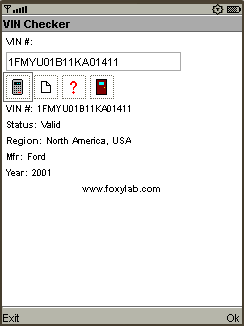 If number of entered characters is less than 17 or entered incorrect characters, then instead of the region, country and the name of the manufacturer, and year of release shows question marks "?", as a result of check indicates the cause of the error:

number of entered characters is less than 17 ("Not enough chars!");
entered incorrect characters ("Invalid char(s)!")
If you entered an incorrect check digit or check digit calc error occurred (due to the used VIN format without a check digit or because of wrong VIN-number), then displays area ("Region") and title ("Mfr") of manufacturer, year of release ("Year"), as a result of check ("Status") indicates the cause of the error:
entered incorrect check digit ("Invalid check digit!");
error check digit test ("Failed check digit calc!").
| | |
| --- | --- |
| Wrong VIN! | True VIN |
| | |
To clear the entire entered and the resulting information, click

.
To display information about the midlet, click

.
To close midlet, click

.


Screenshots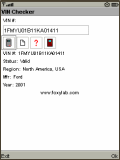 Sun Java WTK Emulator
Whats new in VIN Checker 1.1
+ added recognition model years 2010-2019
* changed the website address of the midlet

Read more >




© 2009 - 2014 Alexey "FoxyLab" Voronin